That will seem like a stupid question to most people. It would have to me too. Before I came across Dr Samantha Bailey, more affectionately as Dr Sam, that is. Not only did Dr Sam talk about terrain theory and recommend a book called Virus Mania1She has been a co-author of the latest edition., but she also has several fascinating videos on the topic. The more I look into disease, the more I have to say terrain theory mostly makes sense, while germ theory doesn't. Below Dr Sam explains what it is far better than I can.
This leads to the question of whether viruses actually exists at all. They might, however without proper research it's impossible to say. This research has not, it might surprise you to know, never been done. So far, viruses by and large have actually not been proven. Every time they try, it ends up, at best, inconclusive2Yes, cell cultures produce growths they say are because of a virus, but cell cultures without an added virus produce the same by-products. Probably because of anti-fungal additives etc.. Normally in science, this would lead researchers to conclude that there must be something else going on.
So how do they prove a virus? By looking for debris essentially. When they find small pieces they don't think should be there, they call it a virus. It's negative proof. We still don't seem to have a virus caught on camera though even the best electron microscopes! This in turn calls vaccinations into question. What do they do if there aren't any viruses?
This is a good question and one I can't yet answer myself. But it's a fact that many of the diseases we think were conquered by vaccination campaigns, actually weren't. Even the official graphs clearly show the illnesses waning away naturally long before we start vaccinations3For a great example of this, watch this video on measles., and might well be due to less vitamin A deficiency, better living conditions, and better hygiene.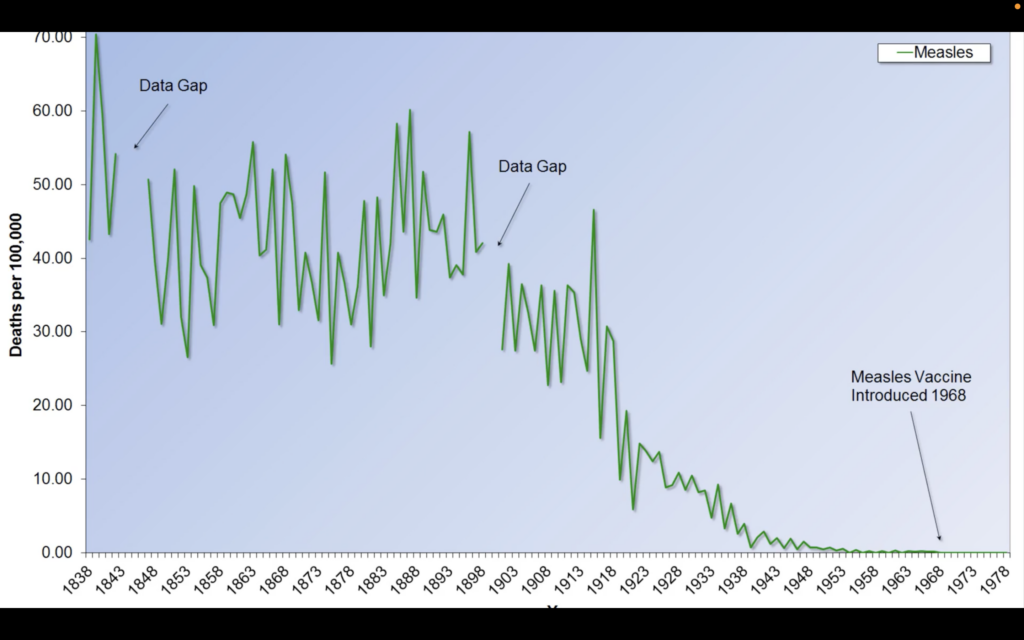 There is so much more to explore down this particular venue, but one of the perhaps most pertinent is: does SARS-CoV-2 exist? Uhm… Well, if you follow the news or politics, yes of course it does. But does it really? Well… No. Not if we mean an actually isolated and sequenced virus. We have not taken pictures of it with an electron microscope, nor do we have a genome. Personally, I am perfectly willing to say: We are being lied to! Listen to this Wise Traditions podcast episode4Curiosity led a biostatistician down an unusual path. Intrigued by the concept that the SARS-CoV-2 virus has not been isolated ever, our guest began inquiring of health departments around the world: Do you have evidence of an isolated virus? To date, over 100 institutions from all over the globe have responded…and there has been no evidence in sight of SARS-CoV-2. ❡ Christine Massey, a former biostatistician for cancer researchers, today discusses her research on the concept of viruses (and this "virus" in particular) and what she's learned through hundreds of FOIA requests (freedom of information act) from health departments all over the world. ❡ She goes over how the cultures or samples used to "isolate the virus" are actually interfering with the process. She exposes the flaws in this methodology and the problem with PCR testing. She also explains why talk of "variants" is essentially nonsense. below to hear what I mean. No one has been able to provide researcher Christine Massey with any proof that SARS-CoV-2 actually exists.
This then goes on to the current mass hysteria, in no small part fueled by a biased and more and more openly evil Mainstream Media, and rampant censorship5Just try talking about any of this on Youtube, Twitter, or Facebook.. You are not allowed to question the current narrative that there is a virus, and that the only way to overcome it is to take an untested mRNA injection, which even the inventor, Dr Robert Malone, warns against doing.
I personally believe we are headed for a humanitarian disaster with these "vaccinations". Not only are we destroying democracy and God-given rights in the name of "public health"6While conveniently forgetting that the survival rate of the couff is well above 99% for healthy individuals in nearly every age group bar the oldest., governments are forcing a 'prick' inside peoples bodies and injecting them with a fluid that may have great ramifications over time. That is rape. Pure and simple.
It's hard to say what the hell is going on and where it will lead. Am I right in my fears? I truly hope I am not. The ramifications are too extreme to even grasp. Is there an evil plot underneath aimed at reducing the population? A cabal controlling everything? Honestly, I don't know. A year ago, I would have said that was at best very unlikely. Now? I'm really not so sure. I'm not done thinking about this. And I will have to delve into pools of thought that are quite forbidden to find out more. But I will do it. I am tired of being lied to. And if there's one thing I am sure of it's this: essentially no one in power is telling us the truth right now. And I don't even know if they ever have.
This post is not meant to be as bleak as it sounds. On the contrary. Take charge of your own health. Turn off the TV. Start living your life. Stop listening to fearmongering people who will make more money the more afraid you are. We will win eventually! So I'll leave you to listen to the imminently positive, informative, and kind professor Tim Noaks: